Click on all pictures to enlarge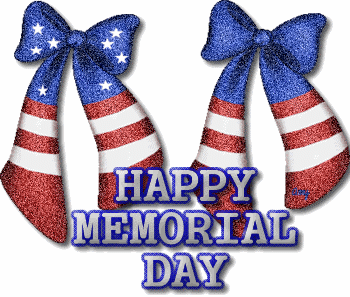 I want to dedicate this Memorial Day Page to Cody Ford he gave his life for his country. God Bless his family. Please read below a little about Cody and also visit his website and sign his guestbook
Patti and Angel Dustin Rawls
Let every nation know, whether it wishes us well or ill, that we shall pay any price, bear any burden, meet any hardship, support any friend, oppose any foe to assure the survival and the success of liberty. -John F. Kennedy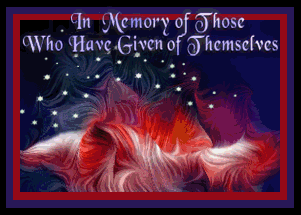 This Memorial Day is dedicated to
US Army Spec Philip Cody Ford
KIA Baghdad Iraq 12/10/2006'
Heaven was needing a hero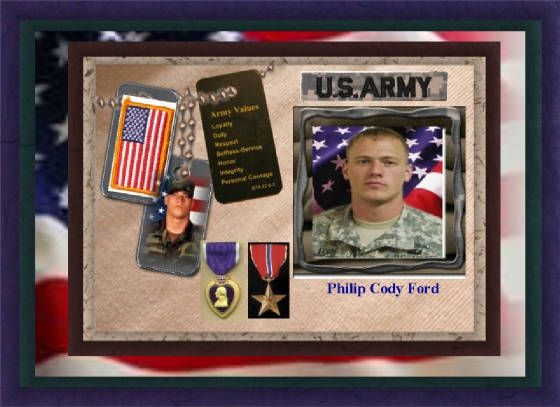 Philip Cody Ford,known as Cody, was born July 30,1985 in Lake Jackson Texas.He graduated from Brazosport High School in 2004 where he played football .Cody enlisted in the US Army in October 2004 and was enrolled in Boot Camp at Fort Benning Ga.,where he married his high school sweetheart in April 2005.After graduation Cody was stationed at Ft Richardson Alaska as a member of the C Co 3rd Btn 509th Paratrooper Infantry Geronimos and held the rank of Specialist. In October of 2006 Cody deployed to Iraq and was killed in action on 10 December 2006 when an IED exploded near the HUMVEE he was riding in.
Visitation was held Thursday 21 December 2006 at Family Life Church in Lake Jackson Texas ,funeral services were held on 22 December 2006 with military honor burial at Gulf Prairie Cemetary in Jones Creek Texas. Cody is buried beside and near several family members.
Cody was posthumously awarded the Bronze Star, Purple Heart and several other medals.
Born: July 30th, 1985
Lake Jackson
Passed: December 10th, 2006
Baghdad Iraq
At age: 21
Angel Mom Kimberly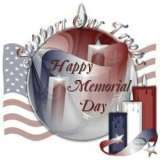 "Some Gave All"
Sung by Billy Ray Cyrus
I knew a man, called him Sandy Kane
You folks didn't even know his name
But a hero yes was he...
An American boy came back a man,
Still many just don't understand,
About the reason we are free...
I can't forget the look in his eyes,
Or the tears he cried
As he said these words to me...
"All gave some... some gave all.
Some stood through for the Red, White, and Blue,
And some had to fall...
And if you ever think of me,
Think of all your liberties, and recall...
Some Gave All."
Now Sandy Kane is no longer here,
But his words are oh so clear
As they echo through the land...
And all his friends who gave us all,
Who stood the ground and took the fall
To help their fellow Man...
Love your country and live with pride,
And don't forget those who died,
America can't you see?
"All gave some... some gave all.
Some stood through for the Red, White, and Blue,
And some had to fall...
And if you ever think of me,
Think of all your liberties, and recall...
Some Gave All.
And if you ever think of me,
Think of all your liberties, and recall... yes, recall...
Some Gave All... Some Gave All"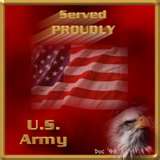 I'm proud to be an American, where at least I know I'm free, and I won't forget the men who died, who gave that right to me and I'll proudly stand next to him to defend her still today, 'cuz there ain't no doubt I love this land, god bless the USA. -Lee Greenwood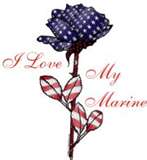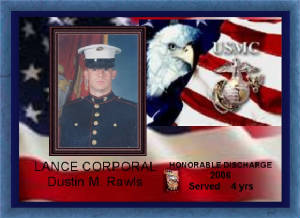 DUSTIN MARSHALL RAWLS
WAS STATIONED IN YUMA, ARIZONA
http://dustinrawlsmyhero.tripod.com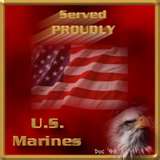 This Memorial Day...

Do not bring flowers to my grave
and weep
I did not die
I do not sleep

Lament not at my passing
with tears upon my stone
I do not lay beneath the sod
and you are not alone

Bouquets of flowers will not bring me back
my voice cannot be heard
look for me upon the wind
in the song of a singing bird

I now reside within your heart
you must live my life for me
your head, your heart, your hands
have now become my legacy

Allow my heart to beat
in concert with your own
and continue to plant the seeds
of my life that should be sown

You substantiate my life
by the way that you live yours
my physical life has ended
but it opened a special door


The doorway to my soul
is wide open with no hasp or lock
I am there when you need me
when your heart needs to talk.

Energy never dies
your combined energies created me
now I live within you
no pain, no tears, I'm free

Make me proud Mom and Dad
and still share my life with all
although I did not want to go
I responded to my call.

It was time for me to go
for God has a bigger plan
the same for every one of us
every child, every woman, every man.

Grieve not with anger,
hopelessness and doubt
but grieve your pain openly
it must be let out.

Express the rage of injustice
of guilt, pain and fear
and plan your new tomorrow's
knowing I'm always near.

Do not bring flowers to my grave
bring sunshine to my heart
and together hearts beating as one
we make a brand new start.


God bless you all this Memorial day however you choose to honor your losses and lives lived

Love and light

Mitch Carmody
Heartlightstudio@aol.com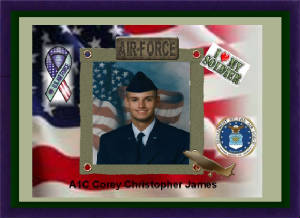 A1C Corey Christopher James
United States Air Force
Stationed at Davis-Monthan AFB in Tucson, Arizona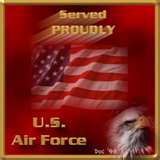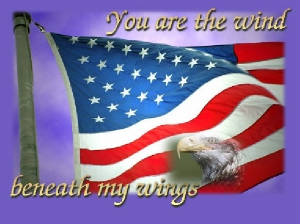 Vet's, This Is Your Day
by: Mae Elms
The sun burned hot on the ground below,
While G I Joe watched danger grow and grow.
So long they fought on land and sea and air,
Dodging bullets and rockets was their social affair.
In the air they must beware, for behind any cloud,
Could be a enemy planes shooting bullets, ever so loud!
And our planes were the target, with no place to hide.
Praying, the Lord would stay right by their side.
On land too they had to beware, for behind any tree ,
May be hiding, an enemy soldier, many, or just two or three. They say war is hell and G I's know it too well,
With no place to go but in the midst of that hell.
The seas were no better, they sought and were sought,
To kill or be killed, the victory was there to be bought.
To sink 'neath the waves, they would pay the great price.
Peace for their country was costly, for loved ones was nice.
On this solemn day we pay tribute to the brave fighting vet,Praying, the peace they have won will always be kept.
The soldier, the sailor, Marines and air forces too,
We sorrow the dead, the living we give honor to you.
So, take to your heart the thanks that we give,
The memory of sacrifices you gave, ever more live.
God help us now that together we may live in peace every day,Not die on the battlefield, to sleep alone in a grave.
This is your day, we'll remember you all,
The living, and also those who took the big fall.
May the Lord bless and keep you, may you live a free life,
And forget all the hell that was yours, no more strife.
Now thanks to all vets, be they lady or man.